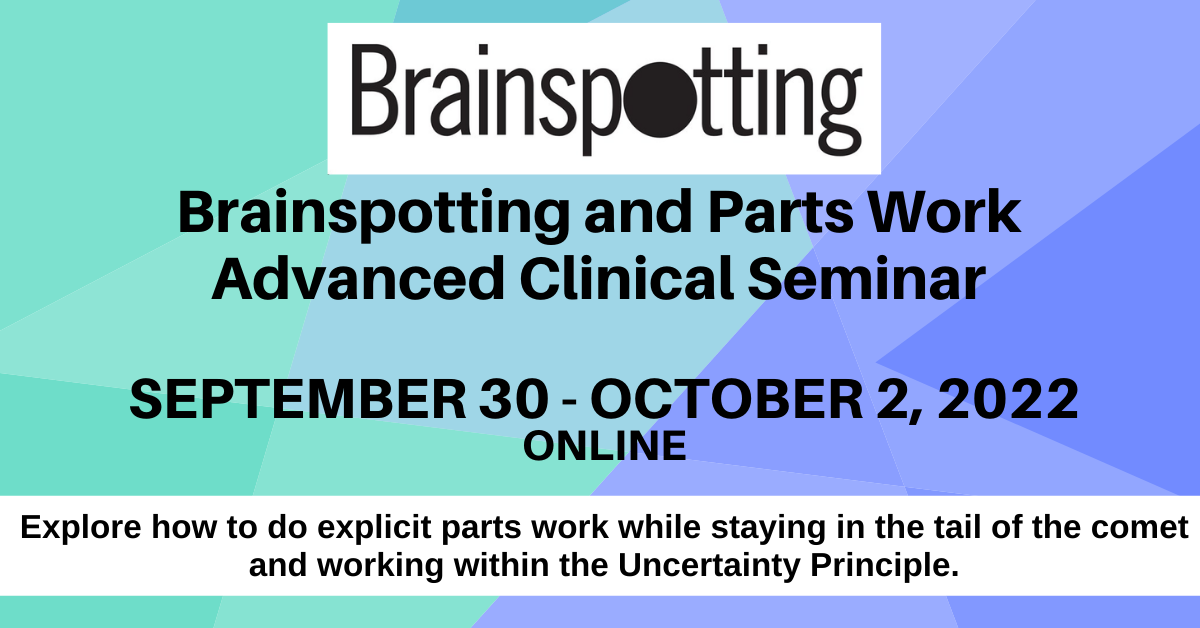 Brainspotting and Parts Work Advanced
September 30, 2022

-

October 2, 2022

|

$745 – $845
Description: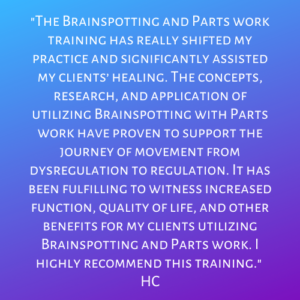 This Brainspotting and Parts Work training is designed for advanced Brainspotting Practitioners to explore how to do explicit parts work while staying in the tail of the comet and working within the Uncertainty Principle.
Through lecture, live demonstrations and practicums attendees will learn and practice various ways of approaching parts work along a spectrum of working with implicit and explicit parts. Students will leave feeling competent in understanding how parts are worked with in Brainspotting. The focus will be on staying in the tail of the comet.
Learning Objectives:
Understand how parts form and implications for processing.
Assessing client's developmental trauma and the need for implicit or explicit parts work.
Understand how to use Brainspotting concepts such as "Uncertainty Principle", "Dual Attunement Frame", "Staying in the tail of the comet" while doing parts processing.
Learn methods to work with different ego states.
Presenters: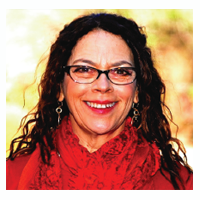 Cynthia Schwartzberg, LCSW, owner of Cynthasis, has been in the counseling field for over 30 years and in Brainspotting since its inception. She specializes in trauma, PTSD, relationship issues, life patterns and transitions, performance enhancement, and spiritual guidance. She practices psychotherapy in Atlanta GA, and is President of the Southeast Brainspotting Institute.
Cherie Lindberg, LPC, the owner of Get Connected Counseling & Consulting, LLC, has been in the counseling field for more than 20 years. Her specialties include performance enhancement, life transitions, personal growth, anxiety disorders, marital therapy, stress management, PTSD, and ego state therapy.
BY ATTENDING THIS TRAINING, I UNDERSTAND AND AGREE TO THE TERMS AND CONDITIONS IN THE TRAINING AGREEMENT AT THIS LINK.
Click here for Cancellation and Refund Policy.
Please register at the link below: