Brain-based therapy is the fastest-growing area in the field of psychological health because it has been proven that it can immediately address issues that talk therapy can not always get to. Brainspotting combines the strengths of brain-based and talk therapies into a powerful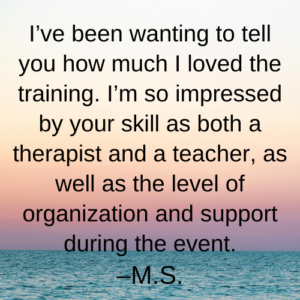 technique.
People are coming to trainings because they are looking for a more effective way to help their clients; they want to integrate a body/brain-based approach into their practice. And some people are coming because they feel stuck in their work and are not getting the results their clients need. They are tired and not ready to retire and seek something fresh and different, yet they do not want to learn a whole new therapy.
Whether you have been practicing for years or are new to the field, you can be as creative as you wish with Brainspotting, because it is an integrative model and can be used with any approach you are already implementing. Brainspotting liberates the therapists' creativity and effectiveness.
No matter what approach you are using, studies have shown that the relationship is key for change to happen. Brainspotting harnesses this and trains you how to enhance the relationship by working neurobiologically.
In a Brainspotting training, you will learn to attune to your client both relationally and neurobiologically. You will learn to let go of assumptions that sometimes you make about your client as it is a non-assumption model. You will be trained to support your clients with their own innate wisdom to
heal.
We believe that Brainspotting taps into and harnesses the body's natural self-scanning and self-healing ability. When a Brainspot is stimulated, the deep brain appears to reflexively signal the therapist that the source of the problem has been found. You will learn the three basic methods to find Brainspots and after the training be able to immediately use it in your practice.
Brainspotting is an organic process to help clients heal from trauma and is also highly effective with sports and performance enhancement.
Click here for more details and a list of upcoming events.
All content found published by Cynthasis, LLC including: text, images, audio, or other formats were created for informational purposes only. The Content is not intended to be a substitute for medical or psychiatric advice, diagnosis, or treatment. Always seek the advice of a licensed practitioner or other qualified health provider with any questions you may have regarding a medical or psychiatric condition. Never disregard professional medical and psychiatric advice or delay in seeking it because of something you have read on this Website.
If you think you may have a medical emergency, call your doctor, go to the emergency department, or call 911 immediately.
Reliance on any information provided by Cynthasis, Cynthasis employees, contracted experts or medical and psychiatric professionals presenting content for publication to Cynthasis is solely at your own risk.
By consuming and implementing any content created by Cynthasis, you acknowledge that you are not entering a therapeutic nor medical relationship with any expert.